Class rooms
All classrooms have LED TV. Students grasp quickly through audio-visual learning method.The rooms are spacious, airy, hygienic, comfortable and most importantly well planned with unique seating arrangements in a creative manner for the twinkling stars of future.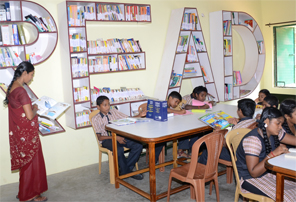 Library
The school has a well furnished library with a collection of various books in English, Tamil, Hindi languages. According to the need and necessity of the students and teachers there are enormous reference books for all subjects. Library functions between 9.30 am to 5.00 pm.
Montessori classes
The school offers Montessori classes for kindergarten and to be followed till class IV.
Laboratories
Labs are set for Science- Physics, Chemistry, Biology .Lab is well equipped with required materials and apparatus as per the requirement for each class and topic.
Our science masters teach students each chapter very clearly with practical knowledge by taking students to lab on a regular basis.
Information Technology World
The school is equipped with IT laboratories with the latest PCs and Wi-Fi internet connection.
Computer lab
The school is well equipped with a computer lab with latest and updated version of PC's and Wi-Fi internet connection to stay ahead a step ahead in the field of IT.
The computer lab has latest model , high end PC computers , high speed network and storage, an extensive collection of software including statistical ,financial , accounting, programming and simulations software -printer, scanner and other useful equipment to meet students requirements.
R.O. Drinking water
The school provides clean and pure drinking water by means of R.O. system installation. Students health is our prime concern. So water facility is available 24/7 in our school.
CCTV Camera
To ensure students safety and security, each and every classroom is fitted with camera connected to CCTV in every corner of the classrooms in our school. It is monitored and reviewed on a daily basis by our school authorities.
Solar power system
The school enjoys 24 hours power supply without any interruption by the implantation of solar power. It is very much necessary to provide light and energy for our students. There will be no power cut in our school at any point of time.
Transport Facility
The school provides excellent transport facility which takes care of the safety of the children right from boarding till alighting the bus.
Sport
The school is has a huge playground with volley ball and basket ball court. It has both indoor as well as outdoor games. Special coaching is given for the talented students in the field of sports to shine at regional, state and national level sports competitions by our trained and experienced physical education trainers and coaches.
Hostel Facilities
** Separate hostel for Boys and Girls
** Nutritious and wholesome -vegetarian /non-vegetarian /meals/snacks
** Study under the direct supervision of full time teaching faculty members.
** Uninterrupted power supply
** 24/7 R.O water supply
** Homely and hygienic environment
** 24 hours under observation
** Guidance and regular mentoring/counseling
Auditorium
The auditorium is widely used for gatherings and special event by students teachers and parents. The technologically advanced room can be used for DVD,OHP,LCD,LED projectors that focuses on enhanced learning.
Salient Features
Excellent infrastructure

NEET/JEE /IIT Trained faculty.

Enriched and innovative curriculum

Interactive and Activity based Teaching

Well qualified and Efficient faculty

Regular Co-curricular Activities

Latest Technology and Teaching Aids

Well Equipped labs

Well maintained Computer lab

Outdoor game facilities

Efficient and Secure transport services