Sri Sivaakamalam Matriculation School was established in 2011 and sponsored by Mr. P. Thangavel, Founder, Thai Educational And Social Service Trust. The student body ranges from the age 3 to 16 years are represented. All teaching staff is fully qualified and the majority are university trained. The school has 700 students on roll, ranging from preschool through Kinder Garten, Primary and Middle Schools to a very active. The school has developed a reputation as one of the very best schools in Arimalam in Pudukottai District with a unique atmosphere that makes us out as special.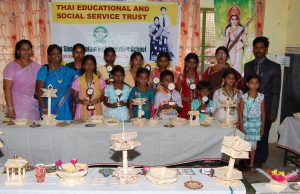 Our Vision
"Without a vision, the people perish".
Our vision is to the create an extremely effective K-8 rural school that not only produces very high levels of student achievement but also help to train the next generation.
Our Mission
Our mission is to help inner city K-6 students develop higher order thinking skills, peacemaking skill and leadership abilities in an environment of shared values of nonviolence, quality and unity, by using a combination of the care knowledge curriculum and direct instruction.
ADVISING COMMITTEE
1. Mr. MRT. Rajendran M.SC., M.B.A.,
Chairman of governing council
2. Mr. C. Thirumoorthy M.A., BL.,
Legal Advisor
3. Mr. RM. Kannan B.SC., F.C.A
Financial Advisor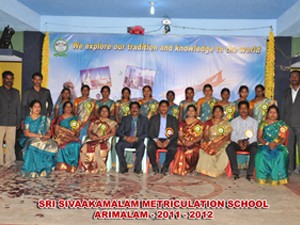 Faculty
The school has highly qualified teaching staff with adequate experience. They are periodically sent for in-service programs such as seminars and workshops to help them improve their professional skills. Regular teacher training is held to ensure that teachers are fully informed of the latest research and developments in education. They involve themselves totally in all the activities of the school. Thus influencing the children far beyond their class rooms. Special efforts are made to give personal attention to every student of the school to enrich his/her whole life.