Sri Sivaakamalam has been established by Thai Educational and Social Service trust to eliminate hatred, envy, jealousy, selfishness among children and to develop true love for all humanity with inspiration of self realization fellowship of India. The students will therefore be moulded by building self confidence through meaningful educational imbibed with qualities like patriotism, discipline and humanity.
Ten years – is a long time, a grand milestone, in the journey of any institution. For over a decade, Mr. P. Thangavel .Chairman and Mrs. Dr.Sabhari Thangavel.Correspondent and their group of educators have filled lives and hearts of all the students who have walked through the gates of our prestigious academic institution.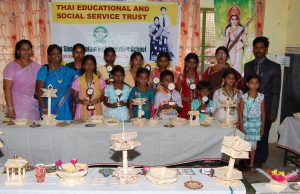 Our Vision
"Without a vision, the people perish".
Our vision is to the create an extremely effective K-8 rural school that not only produces very high levels of student achievement but also help to train the next generation.
Our Mission
The Mission of Sri Sivaakamalam Matric Higher Secondary , Arimalam is to provide all students with diverse learning experiences and ensure individual growth and personal success in an environment of mutual respect and safety , through collaborative efforts, measured by on – going assessments and observations with support and reinforcement by students , family ,staff and community.
ADVISING COMMITTEE
1. Mr. MRT. Rajendran M.SC., M.B.A.,
Chairman of governing council
2. Mr. C. Thirumoorthy M.A., BL.,
Legal Advisor
3. Mr. RM. Kannan B.SC., F.C.A
Financial Advisor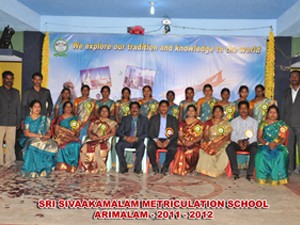 Faculty
The school has highly qualified teaching staff with adequate experience. They are periodically sent for in-service programs such as seminars and workshops to help them improve their professional skills. Regular teacher training is held to ensure that teachers are fully informed of the latest research and developments in education. They involve themselves totally in all the activities of the school. Thus influencing the children far beyond their class rooms. Special efforts are made to give personal attention to every student of the school to enrich his/her whole life.
Purpose
Sri Sivaakamalam Matric Higher Secondary School, Arimalam will provide high quality diverse educational opportunities within a safe environment to ensure all students value learning, achieve their individual potential and become responsible citizens and adventures. Students will acquire knowledge of and demonstrate essential skills in academic , artistic and technical disciplines ,problem –solving , wellness and social interaction through a challenging individually- oriented educational program.